---

LUNCH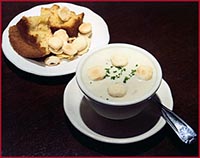 All prices subject to Meals Tax

No Personal Checks Accepted
ALL MAJOR CREDIT CARDS ACCEPTED:
$10.00 MINIMUM
Many of our Entrées can be Prepared to Suit
your Dietary Needs.
Please Inform your Server of your Request.
Before placing your order, please inform your
server if anyone in your party has a food allergy.
All our Fried Foods and Salad Dressings
are prepared with 100% Trans Fat Free Oils.